Home Remodeling, Commercial Remodeling and Construction Services
Gulf Remodeling specializes in home remodeling, kitchen remodeling, bathroom remodeling, room additions, drywall repairs, flooring, general home renovation , outdoor remodeling and commercial build-outs and commercial remodels.
Based out of Houston, TX Gulf Remodeling's general area of operation includes Houston and all the surrounding cities.
Home Remodeling Houston Texas and Residential Remodeling
Residential: Home renovations, Home remodeling, Home construction, kitchen remodeling, bathroom remodeling, insurance claims, room additions, patio covers, garage conversions and building new garages.
Commercial Remodeling and Construction
Commercial: Build outs, tenant improvements, tenant construction, retail maintenance, retail remodeling, finish-outs, build-to-suit, water damage restoration and commercial construction. Office buildings & medical centers, retail stores, restaurants, gas stations, shopping centers, malls, warehouses, car dealerships,  apartment complexes in and around Houston.
We work with the best name brands in the industry so you're 100% satisfied with the final results. We have a 100% satisfaction guarantee as Gulf Remodeling is the brand of trust.
Gulf Remodeling also is a platinum member of the chamber of commerce. You can be rest assured that your project will be stress-free, affordable and just as you imagined it.
Home Remodeling
Home remodeling Houston TX is not only a profession, it is an art form. To convert & remodel home that we've never seen before and turn them into something that our customers will love is something we have mastered. Read more…
Kitchen Remodeling
Are you tired of the same old kitchen? Do you want to turn your drab kitchen into a fab one? Well, we have just the right services for you. When it comes to Houston TX Kitchen Remodeling, we have years of experience in converting a dusty, old-fashioned kitchens to 21st-century ones and ones that you'll love. Our Kitchen Remodeling Houston TX team is always ready to give you all the needed details regarding costs and materials. We will turn your kitchen remodel dream into a beautiful reality… Read more…
Bathroom Remodeling
Bathrooms are something that there is no excuse about; we buy houses and one of the main selling points is the bathroom. We, as people just like having clean, good looking bathrooms, even though it's something very private.
Whether you want to upgrade your bathroom, fit in some new commodities, do a customer bathroom remodel, or you want to remodel it entirely, we're the Houston bathroom remodeling company that will help you do just that. Read more…
Drywall Repairs & Installation
Don't you just hate it when your houses' beauty and integrity is affected because of a busted-up drywall?  Drywall repairs are common when people are moving around furniture or are remodeling their home.
While drywall is actually not the weakest material you can find in your house, it can be dented, chipped or punctured in everyday use. It could be because of the doorknob hitting the wall hard enough or due to other reasons. Read more…
Commercial Remodeling
As a commercial build out & remodeling contractor in Houston,  we understand that each and every business relies on their own kind of jargon and commercial buildings / real estate businesses are no exception. When office buildings are rented out, they are nothing more than 4 walls and a roof but… Read more…
Flooring
When it comes to flooring, Gulf Remodeling offers a wide variety of flooring including: Bamboo flooring, laminate flooring, ceramic tile, hardwood flooring and luxury vinyl. By choosing us, we guarantee you the best remodels, flooring and cabinets. You will be happy to invite your family & friends to see how your decision was the best because you decided to go with a company that guarantees the quality of their work. Read more about our flooring installation and repair services.  See gallery…
---
"
I will hire them in every project and I will recommend them to all friends & family.
"
---
Free Estimate or Free Consultation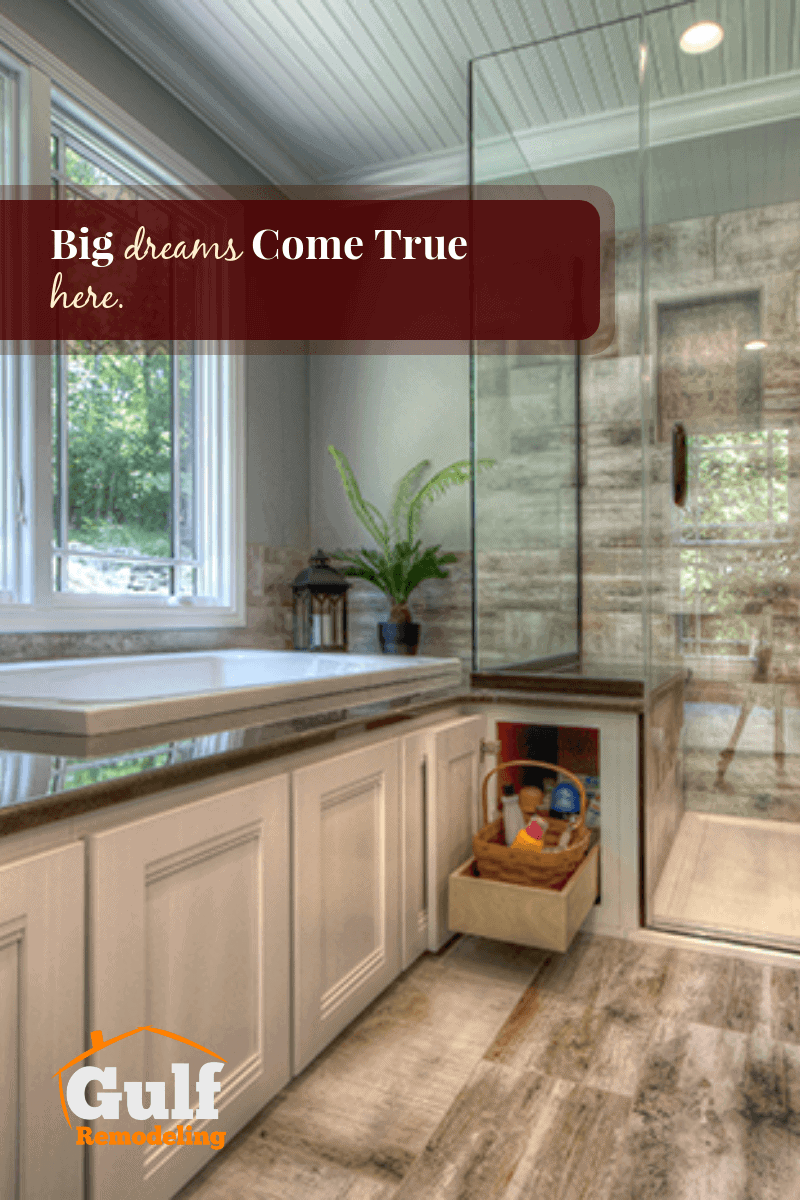 We design your dream, not ours. Just use the below online designers to visualize your new bathroom, kitchen or flooring & contact us to give you more details on how we can make it happen in the most efficient way.
Just ask for a consultation and let us prove our commitment to you
as we promise to maintain the highest level of quality and commitment.
Your satisfaction is our prime concern. Learn More…